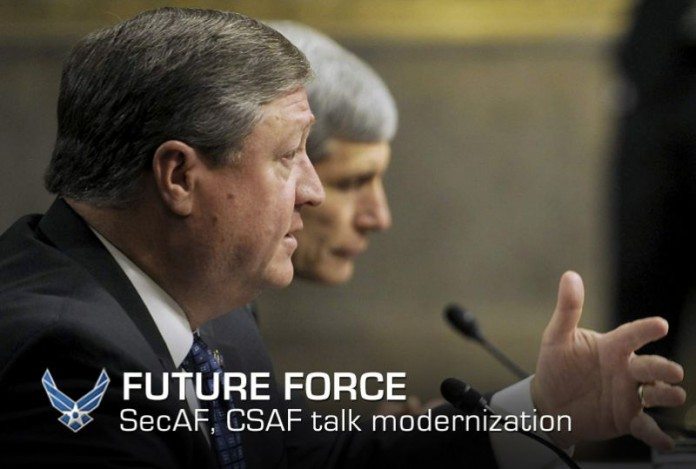 Secretary of the Air Force Michael Donley and Air Force Chief of Staff Gen. Norton Schwartz outlined the service's modernization efforts during testimony to the House Appropriations Committee's Subcommittee on Defense here March 6.
"Modernization is our most significant concern, especially as our fleets age and new technologies drive new investment needs," Donley said.
Protecting modernization priorities, including the Long Range Strike bomber, the KC-46A refueling tanker, and key space and intelligence, surveillance and reconnaissance programs, is vital to the future force, Donley said.
To support these efforts, Schwartz said the Air Force looks to divest nearly 230 fighter, mobility and ISR aircraft in fiscal 2013 toward a total retirement of 286 aircraft retirements over the Future Years Defense Plan.
"As part of the defense strategic guidance, we are structuring our force to be agile and responsive, even as we accept the risk associated with a smaller force," Schwartz said. "We project that targeted divestitures will achieve $8.7 billion in total force savings over the planning period, which then can be applied to our modernization strategy."
The Air Force is also emphasizing the use of multi-role capabilities that provide flexibility across the spectrum of conflict, Donley said. He pointed to the Air Force's C-130 Hercules as a prime multi-role example, as well as the service's choices in fighter force structure, which include a smaller A-10 Thunderbolt II fleet and plans for the F-16 Fighting Falcon service life extension.
Schwartz said the Air Force is also emphasizing common configurations for fewer support and sustainment requirements. By doing so, the Air Force will be "positioned to achieve greater efficiency in delivering Air Force capabilities," Schwartz added.
The focus on common aircraft configurations can be seen in adjustments to the C-5 Galaxy and C-17 Globemaster III mobility fleets, and in ongoing efforts to seek common configurations within the F-22 Raptor and F-15C Eagle fleets, Donley said.
With the adjustments to aircraft numbers, the Air Force took a holistic, interstate approach to the Air National Guard and Air Force Reserve force structure, Schwartz said.
"Clearly, the Air Force's vitality and effectiveness is dependent on the total force," the general said. "Therefore, the leadership of both the active and reserve components worked closely together in all deliberations and decisions affecting the total force."