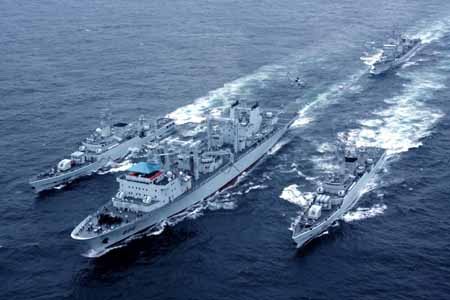 Reports claim that Southeast Asian nations are investing in their defense sector in response to increasing tensions with Beijing over the South China Sea. But will that be able to keep China at bay?
Experts believe that nations in Southeast Asia can depend on US military support only to certain degree; in the end they have to enhance their military capacity to counter China's actions in the disputed South China Sea.
Beijing, which claims about nine-tenths of the South China Sea, has beefed up its maritime presence in disputed waters. A number of Southeast Asian countries also lay competing claims to islands and territories located in the area, which is believed to be rich in fish stocks as well as contain huge oil and gas reserves.
Tensions with China over the disputed waters have spurred a number of Southeast (SE) Asian countries to boost their defense industries and decrease their dependence on US and European arms suppliers.
Data from the Stockholm International Peace Research Institute (SIPRI) shows that Southeast Asia's defense budget rose five percent to 35.9 billion USD in 2013 and is expected to grow to 40 billion USD by 2016. SIPRI says the region's defense spending has more than doubled since 1992. On the other hand, China's military spending topped 145 billion USD last year, according to US estimates.
A strong domestic defense industry is a long-term economic as well as security goal for the ten-member Association of Southeast Asian Nations (ASEAN), which is spending more money on modernizing worn-out military equipment partly to retain the region's military balance.
Varied responses
Sam Perlo-Freeman, head of the Military Expenditure Programme at SIPRI, points out, nonetheless, that the increase in spending is not homogenous throughout the region. "There is considerable variation amongst the Southeast Asian nations in the rates of increase of their military spending, and so are the reasons for it," the expert told DW.
And it is not always linked to China's actions in disputed waters. "Only Vietnam's increase is clearly a response to China's growing military power and actions in the South China Sea," he adds.
Cambodia and Thailand are not parties to these territorial disputes, and other countries in the region, such as Malaysia, Singapore and Taiwan have made only very modest increases in their military spending in recent years, the expert added.
Despite the fact that the maritime conflict is a major reason for tensions, there is little evidence that China is interested in an armed conflict in the region. "It could have disastrous economic consequences. It is therefore likely that China will continue to use its overwhelming preponderance in military capability in the region to try to establish 'facts on the water' and gain effective control of more of the disputed areas," Perlo-Freeman said.
William Choong, a Shangri-La Dialogue Senior Fellow for Asia-Pacific Security at the International Institute for Strategic Studies (IISS), says that China's neighbors "do acknowledge the country's rise and that it has a natural place in this part of the world," however, "what they don't accept is that Beijing is not adhering to generally accepted norms of behavior," the analyst told DW.
Reliance on the US
The focus on strengthening and expanding local defense industries, however, does not mean that Southeast Asian countries will stop relying on the US and other Western defense suppliers. On the contrary, the increasing military needs make the region attractive for weapons manufacturers in Europe and North America.
Aude Fleurant, director of SIPRI's Military Expenditure, Arms Production and Arms Transfers Programme, is of the view that many countries in Southeast Asia rely on the US for a number of reasons.
"At the global level, both the region's stability and the uninterrupted use of vital trade routes still depend on US security guarantees and its military presence. However, longstanding competing territorial and sovereignty claims, such as those over the South China Sea, are increasing tensions and driving a process of weapons acquisition in the region's states," Fleurant told DW.
However, Fleurant also believes that for these countries, depending exclusively on the US for security "would be a mistake, as partners are expected to 'do their part' but going it alone would also be very risky when faced with an increasingly powerful China." The US remains a central actor in the region, and this will likely remain the case for the foreseeable future, she adds.
Arms race?
Experts argue that the Southeast Asian countries need to have a balance between boosting their own defense and simultaneously using US military support to balance the regional power dynamics. That's how they can keep China at a distance.
Defense analysts are of the view that although the enhancement of the defense sector is a normal process, it could get out of hand in a region with a weak culture of solving international tensions through negotiations. The likelihood of an all-out war in the region is small, but unplanned incidents and conflicts can become larger and uncontrollable.