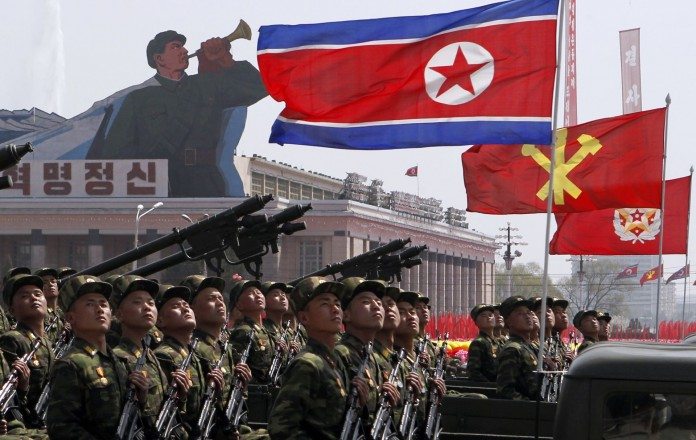 Even as world powers work to implement the Iran nuclear deal, North Korea's apparent detonation of a new bomb marks a stark setback for global anti-proliferation efforts.
The UN Security Council scrambled to convene a session to condemn Pyongyang and prepare to strengthen the already draconian sanctions regime isolating North Korea.
UN Secretary-General Ban Ki-moon "unequivocally" condemned the North Korea test which, if confirmed, would violate previous Security Council resolutions.
But if and when sanctions are tightened, it won't be for the first time. North Korea has tested nuclear devices three times since 2006, defying UN resolutions and global condemnation.
US Secretary of State John Kerry's message to Pyongyang was clear — "We do not and will not accept North Korea as a nuclear armed state" — but not new.
President Barack Obama's 2009 Nobel Peace Prize was awarded him for his "vision of and work for a world without nuclear weapons" and he has made halting their spread a priority.
The powers that negotiated the Iran nuclear deal, hailed last July as a victory in non-proliferation efforts, hope soon to celebrate Tehran's implementation of measures to put such weapons beyond its reach.
But another pariah regime, North Korea, has pushed on with its own program and on Wednesday claimed to have carried out a test of its most powerful nuclear weapon yet.
There is no sign that young North Korean leader Kim Jong-Un is willing to back down this time, and critics of Obama and the international response say a new approach is needed.
Boosted fission
"North Korea poses an increasing and direct threat to the United States, South Korea, and Japan," said former CIA analyst Bruce Klinger of the Heritage Foundation said.
"Experts estimate that Pyongyang currently has 10 to 16 nuclear weapons with potentially as many as 50 to 100 by 2020."
Karl Dewey, a proliferation analyst for IHS Jane's, said North Korea's new device may not be a thermonuclear hydrogen bomb as claimed but a still powerful "boosted fission weapon."
Combined with the country's recent advances in banned ballistic missile technology, it could one day pose a threat to cities in North Korea's US-allied neighbors South Korea and Japan.
This is just the kind of regional destabilization the world hoped to avoid in curtailing the Iranian program, and critics of the Iran deal were quick to seize on North Korea's advance.
The chairman of the Senate Foreign Relations Committee, Republican Bob Corker, accused the administration of ignoring the North Korean threat while distracted by crises elsewhere.
"The past several decades of US policy toward North Korea has been an abject failure," he said.
"The United States — together with our allies and others in the region — must take a more assertive role."
House foreign affairs committee chair Ed Royce said: "Dictators like Kim Jong-Un don't take time outs, they take advantage when the US looks away.
"As Iran prepares to gain billions in sanctions relief, North Korea surely thinks it can intimidate the Obama administration into the same."
But experts said the failure of the sanctions regime was not Washington's fault alone, and pointed to China — the closest thing North Korea still has to an ally.
Victor Cha, director of government and international affairs at Georgetown University, told CNN that China opposes Pyongyang's nuclear program, but fears the country's collapse if sanctions are imposed too efficiently.
"If you had to point to one weak link in the sanctions regime, you would have to say it's China," he said.
"The thing that they're most worried about is a destabilized North Korea in which there could be loose nukes and millions of refugees coming across the border."
China nevertheless supported a UN Security Council resolution to "strongly condemn" the test as a "clear threat to international peace and security."
For Washington, the onus is now on North Korea to decide to rejoin the six-party talks — abandoned in 2008 — with South Korea, the United States, Russia, China and Japan.
"The North has shown absolutely no interest in returning to that forum," State Department spokesman John Kirby said.
"And that's the international agreed framework for having a discussion with the North over this capability."