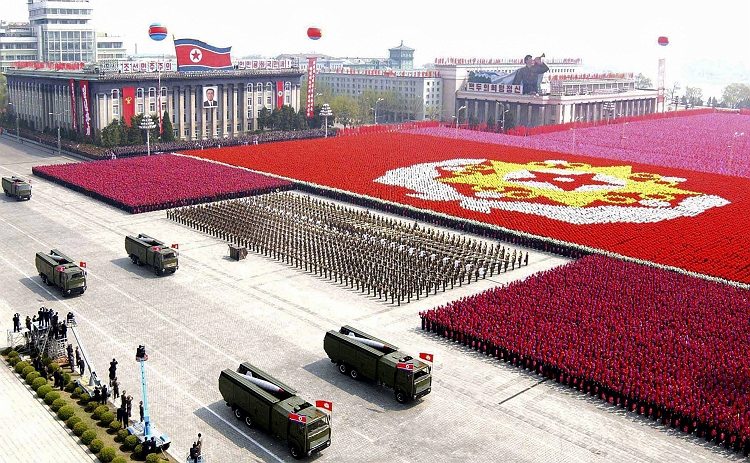 North Korea appears to be preparing a fourth nuclear test as well as a provocative missile launch, South Korea said Monday, despite an unusually blunt call from China for restraint.
Unification Minister Ryoo Kihl-Jae told lawmakers there were "signs" that another test was in the pipeline, with intelligence reports showing heightened activity at the North's Punggye-ri atomic test site.
"We are trying to figure out whether it is a genuine preparation for a nuclear test or just a ploy to heap more pressure on us and the US," the JoongAng Ilbo daily cited a senior South Korean government official as saying.
It was the North's third nuclear test in February and subsequent UN sanctions that kickstarted the cycle of escalating military tensions on the Korean peninsula.
While North Korea has made no secret of the fact that it intends to carry out further nuclear tests, most analysts believe a detonation in the current climate would be a provocative step too far, even for Pyongyang.
"It would just be unbelievably risky," said Robert Kelly, a political science professor at Pusan National University in South Korea.
"The Americans would freak out, for a start. I think a missile test is far more likely," Kelly said.
Intelligence reports suggest Pyongyang has readied two mid-range missiles on mobile launchers on its east coast, and is aiming at a test-firing before the April 15 birthday of late founding leader Kim Il-Sung.
Japan has ordered its armed forces to shoot down any North Korean missile headed towards its territory, a defence ministry spokesman in Tokyo said Monday.
A missile launch would still be highly provocative, especially given the strong rebuke the North's sole ally China handed it at the weekend and a US concession to delay its own planned missile test.
"No one should be allowed to throw a region, even the whole world, into chaos for selfish gains," Chinese President Xi Jinping told an international forum in southern China on Sunday.
Although he did not mention North Korea by name, Xi's remarks were taken as a clear warning to the regime in Pyongyang, which is hugely dependent on China's economic and diplomatic support.
On Saturday Chinese Foreign Minister Wang Yi had told UN chief Ban Ki-moon that Beijing would "not allow troublemaking on China's doorstep".
The United States, which has met the North's threats with some military muscle-flexing of its own, offered a calibrated concession Saturday by delaying a planned inter-continental ballistic missile test.
A US defence official said Defense Secretary Chuck Hagel had postponed the Minuteman 3 test because it "might be misconstrued by some as suggesting that we were intending to exacerbate the current crisis with North Korea".
The New York Times reported that the US and South Korea have drawn up plans for a measured tit-for-tat response to North Korean actions, which will be limited in order to prevent an escalation to broader war.
Citing unnamed US officials, the newspaper said the new "counter-provocation" strategy calls for an immediate but proportional "response in kind" if the North decides to launch a missile attack or ground attack.
North Korea's bellicose rhetoric has reached fever pitch in recent weeks, with near-daily threats of attacks on US military bases and South Korea in response to ongoing South Korea-US military exercises.
The mid-range missiles mobilised by the North are reported to be untested Musudan models with an estimated range of around 1,860 miles (3,000km) that could theoretically be pushed to 2,485 miles with a light payload.
That would cover any target in South Korea and Japan, and possibly even US military bases on the Pacific island of Guam.
The North has no proven inter-continental ballistic missile capability that would enable it to strike more distant US targets, and many experts say it is unlikely it can even mount a nuclear warhead on a mid-range missile.
The one concrete step North Korea has taken is to block South Korean access to the Kaesong joint industrial zone that lies 10 kilometres to the north of the heavily-militarised border.
The block remained in place for a sixth straight day Monday, prompting an angry outburst from South Korean Finance Minister Hyun Oh-Seok.
"It's quite ridiculous," Hyun told reporters.
"North Korea might think that it has nothing to lose, but I think it has nothing to gain," Hyun said, adding that the government would provide support to the 123 South Korean companies in Kaesong if needed.