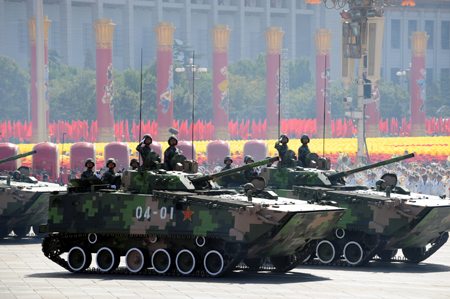 Premier Wen Jiabao vowed on Saturday that China would continue building a "powerful" military, one day after Beijing announced a return to double-digit percentage hikes in defence spending.
"Strengthening national defence and building a powerful people's army are important guarantees for safeguarding national sovereignty, security and development interests," Wen said in a speech opening the nation's legislature.
"We will energetically yet prudently press ahead with reform of national defence and the military," he said.
A spokesman for the National People's Congress said on Friday that China's defence budget would rise 12.7 percent in 2011 to 601.1 billion yuan ($91.7 billion).
A multi-year trend of double-digit percentage increases was broken in 2010 when the budget rose just 7.5 percent.
China has upgraded the People's Liberation Army's capabilities over the past three decades, developing advanced weaponry like its first stealth fighter jet, revealed in January.
The campaign has alarmed the United States, Japan, and others in the region and raised fears a more assertive China would seek to project its power overseas.
"It is an extremely high ratio for defence spending," Japanese Foreign Minister Seiji Maehara told reporters on Friday.
"We cannot help worrying about what all the money is used for."
Wen said "great progress was made in the modernization of national defence and the army" in the past five years.
China would continue to develop new weaponry and "vigorously adapt our military training to the Information Age," he said.
The announced budget is widely believed to be far lower than actual spending.
The PLA — the world's largest military force — is hugely secretive about its defence programs, but insists its modernization is aimed purely at defence of China's vast land and sea borders.
"This will not pose a threat to any country," Li Zhaoxing, the parliament spokesman — and a former foreign minister — said in announcing the budget.
Wen said China also would continue strengthening the People's Armed Police, a paramilitary force tasked with suppressing domestic unrest.
China annually sees tens of thousands of public protests, which are often violent.
It squelched violent 2008 anti-Chinese unrest in Tibet, and 2009 saw deadly ethnic rioting in its Xinjiang region, home to millions of members of the Muslim Uighur minority, a Central Asian people.
"We will modernize the armed police force to improve its ability to carry out duties, respond to emergencies, combat terrorism and safeguard stability," Wen said.
China began revamping the PLA — the former ragtag peasant force formed in 1927 by the Communist Party — in earnest after a troubled 1979 incursion into Vietnam, when the neighbors vied for influence over Southeast Asia.
Besides conventional weaponry upgrades, the push also has led to China's fast-growing space programme and the test of a satellite-killing weapon in 2007.