Super Moderator
Staff member
There is, or at least was, quite a large bulk fuel storage capacity at Lombrum. If it is still in reasonable nick one of the tanks could take F35 after a clean, and it had reticulation to the wharf for both resupply and provision of fuel to ships (it was once my job to arrange that resupply). Moving fuel from there to Momote would be a reasonably trivial exercise.
Indeed.
lombrum and the other islands is much easier to get fuel to, particularly compared to the highlands. Lombrum also has all its new facilities, a new navy port, a new airport and runway, a new road network, new electricity supply, new water supply, new accommodation.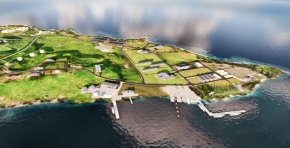 Joint Initiative at Lombrum Naval Base (PNG) | Sectors | Department of Defence
The before and after of the Momote airport is really significant, with longer runway, huge apron area, new terminal and facilities. Takes from a WW2 left over to a modern airfield with Australian level of facilities and services.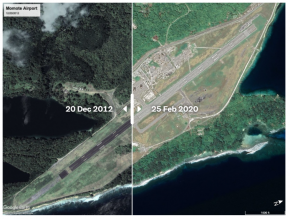 It will even have international visa capability for direct international flights.
I suppose it should be stated that its still a civilian airport. I would imagine P8's and E7's could slip in and out, but would unlikely to be "based there". Its not another Butterworth or Tindal. I would imagine any G550 base aircraft could also fly in and out of there as well. I presume C130's, C27J and C17s could fly in and fly out.
It may also be possible to get C-17As in and out of there. If a B737 can operate from there, no reason why a C-17A can't. Use it to lift fuel bladders on pallets in.
Starts getting pretty pricey and strenuous to do that, (obviously the US can do it) and you start flogging a platform running bulk logistics on one the RAAF doesn't really want to have to do that. Particularly if your flying in fuel for a large tanker, you might as well just fly the tanker in and out of else where and refill in the air.. C130 based, or perhaps A400 based aircraft could also operate there. UK is FPDA.
Mt hagen you might have to do that.. Particularly if the roads get cut off. Fuel shortages are a real thing there.
If the UK carrier was operating in and around the region, carrier fighters could be supported with the A400 running out of these smaller airports. UK E7's and P8's could also use the same fields.
At least where I work, Honiara is listed as an option for the Boeing 777 (alternate only).
An interesting idea, not sure how Honiara is in terms of storage and facilities. But if we needed to project further east into the Pacific, the focus would shift. Just as it did shift through WW2.
Solomons however would be a key base if things ever went south on Bougainville. The $250m new patrol boat base in Solomons, is right near it.
However, that area is pretty remote.
The only airfield around there is Ballale (
Balalae Island - Wikipedia
), a rather cursed place, grass.