Thread Starter

Thread Starter
that's one step before MoU and two steps before the actual contract, right?
Yeah, sometimes the fanboys in local enthusiats communities and media, does not differentiate between LOI, MOU, Prelimimary Contract agreement/arrangement and Effective Contract order. They seems forgot the last one that matter, because the last one that already have money trails to back it up.
This Indodefence as before will be going to have several agreement in signing. Not that going to be different with other defence expo internationally. However how much that already reach effective contract, that will be different matter.
Just like this one: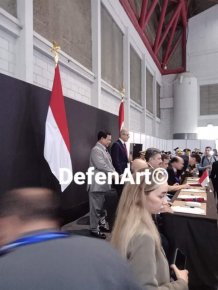 from Indo Defence Review FB.
Enthusiast FB page shown multiple signing with Turkiye producer during this Indo Defence. Not surprising as Indonesia already talk for sometime with Turkiye on defense co-op. However will this's going to be effective all, remain to be seen.
I do suspect some other agreement with UAE and Frenchie will be sign later on, as those just like Turkiye that already having discussion on defense industrial co-op. Again remain to be seen how much that's going to reach effective contract stages.
Last edited: