In better news, the RCN is getting their first major new ship in more than 2 decades with the delivery of Harry DeWolf tomorrow.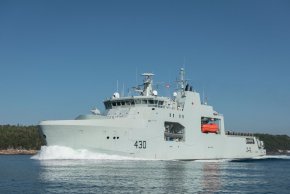 Through Canada's defence policy, Strong, Secure, Engaged, the Government of Canada is equipping the Royal Canadian Navy (RCN) with the modern and effective ships it needs to support expanded surveillance and defence activities across Canada's three coasts.
www.canada.ca
So the HMCS
Harry DeWolf
has been delivered and will undergo RCN sea trials over the next year before commissioning in summer 2021. The press release notes the AOPS will continue to begin construction at a rate of about 1 a year with the 8th AOPS beginning 2023. That means there's about 3-4 years to finish the CSC design in order to make a 2024 keel laying and avoid any further production gaps.
The Defence Minister stated that the Defence Policy is fully funded and that the RCN will "receive all of the ships outlined in the National Shipbuilding Strategy". If we take him at his word, then there's no immediate impact from Covid-19 budget pressures which makes sense since the shipbuilding spending won't really ramp up for a few years until the CSC program is in full swing and is spread out past 2040. I'm sure things could change if the economy doesn't fully bounce back in 2021 though.