Super Moderator
Staff member
There's been lots of discussion re TLAM on the MFUs however IIRC the DWP stated that the RAN's strike capacity is slated for our submarines and this makes sense. Surely the stealth of the launch platform for strike Ops is paramount.
The RAN does not have the capacity to have multiple options in all fleet units.
ADMk2 in the ADF threads had this on the TLAM capability.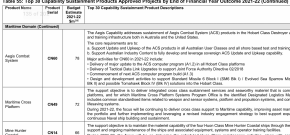 So it appears TLAM for the AWD is a possible. Personally I think that is, fine, 48 tubes, could always mix TLAM in for a long range antisurface weapon.
But the critical platforms are the subs. For both land and maritime strike capability.
The issue is I am not sure which platform is driving the acquisition, the subs or the awds.
The original announcement back in JAN was a bit ambiguous..
urity

With ranges in excess of 370 kilometres for anti-ship and surface-to-air missiles, and 1,500 kilometres for maritime land strike missiles, these new weapons will enhance the protection of our maritime resources and borders, and hold adversaries at risk at much greater distances.

Minister for Defence, Senator the Hon Linda Reynolds CSC said new investments would be made across the current and future submarine and surface combatant fleets, to provide the Australian Defence Force with more options to protect Australia's interests.