Can't wait to visit the Singapore Airshow amidst this pandemic. Last time I visited was back in 2018 and had a blast, and can't wait to return.
Truthfully, I'm no aerospace expert. Heck, I'm still self-learning about the technicalities behind most vehicles (commercial aircraft, fighter jets, AFVs, normal cars etc). If anything, what draws me to the Airshow is simply the aesthetics of the vehicles really. The main aircrafts I'm certainly eyeing on are the Sukhoi and F35.
Additionally, I too look forward to seeing (and maybe using) some of the gadgets and equipment at the airshow.
According to a Straits Times article, an electric TERREX APC and a wearable aircon would be on display, among others. Some of you here may know me as some kind of Armoured Vehicle fanatic (which I kinda am) thanks to some of my past posts on the Bronco 3 AFV. In that regard, I may have spotted what I think could be a Bronco 3 ExtremeV in the article (hiding in the background of the contactless biometric gate). Whether or not that were, I'm not entirely certain, but I sure am excited to find out!
Anyway, the Singapore Airshow is being hosted from 15 - 18 February. Anybody else going?
The Straits Times article:
SINGAPORE - Global technology, defence and engineering group ST Engineering will return to the Singapore Airshow 2022, to be held from Feb 15 to 18, as its largest exhibitor. Read more at straitstimes.com.
www.straitstimes.com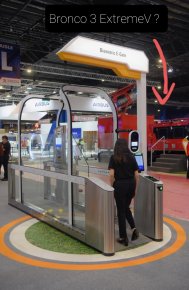 Just a speculation.