Indonesia has changed where it will host ASEAN's first-ever joint military exercise to a location away from the South China Sea where several countries including China have overlapping territorial claims, its military said on Thursday.
www.reuters.com
Well this ASEAN naval exercise that Indonesia initiate the idea, seems need some compromise. Especially Cambodia and Myanmar disagree on the idea, then change their stance toward more neutral exercise regimes.
This seems work as the exercises that before aim to be conducted in North Natuna Sea (part of Indonesian EEZ in SCS), now being move to South Natuna Sea which is still close to SCS but part of Indonesian water.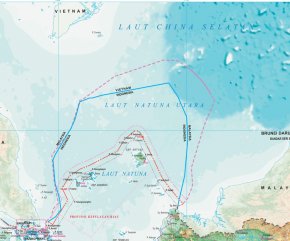 To give the idea, this is Indonesian Map of Natuna Sea (Laut Natuna). North Natuna Sea (Laut Natuna Utara) is Indonesian EEZ north of Natuna Islands bordering Malaysian and Vietnam EEZ. This is more or less part of SCS. While South Natuna Sea is what in that map call Laut Natuna which is part of Indonesian teritorial water.
The regimes of exercise now build on non combatan ones, thus more on Naval civic duties roles. Well it is compromise to bring all ASEAN navies together. This is just for a neutral regimes exercises, still already need some compromise.