Super Moderator
Staff member
Verified Defense Pro
Thread Starter

Thread Starter
Hawker Typhoon RB396 – Restoration Update Hawker Typhoon Mk.IB RB396 – Restoration Fund Raiser

Progress report on the restoration of a Napier Sabre powered Hawker Typhoon 1B in the UK.

Kermit Weeks was strong in his statement that there are two Napier Sabre Engines left in existence and the RAF Museum had one and he had the other, but he didn't know about the Cranfield Technical College had a rebuildable one and they have gifted it to the Typhoon restoration group.

The rebuild of this engine appears to be almost half way complete.
Air Ministry bureaucracy even in wartime and the cracker stacker officer's response. Note the date on the minute.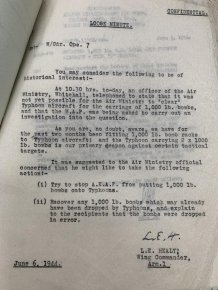 Source:
Hawker Typhoon Preservation Group