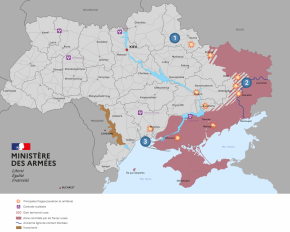 I always like to watch French Defense Ministry report on Ukraine war. They are straight to the point and not adding BS like US or UK defense ministry on Ukranian war.
Practicaly their twitter put (sorry not speaking French thus only using google translate) on 3 main engagement:
1. Exchange artilery in Sumy,
2. Eastren Front (Donbas), Russia push but only modest gain,
3. Ukranian try to disrupt Russian Logistics in Southern front.
So clearly no BS like UK defense ministry that always talking on Ukranian counter offensive momentum since close to two months ago, as just another mouth piece of Ukranian propaganda.
Basically the French more honest to say, it is still a grinding attrition war.