Anyway, I came across some information in another forum that the estimated price tag for this project was 95m Euro (for two vessels). Just wondering if you have any further information (ie. length, draught, crew complement, speed, range etc.)? There doesn't appear to be anything on the Fassmer website as yet. As you say, they look very similar to the Type 748 Schwedeneck class. I presume the propulsion is diesel-electric (judging by the pods), and that there is no sonar / echo-sounder fitted.
The two SVK ships will get a
ELAC PILOS 2.0
passive sonar (appropriate to its taskset) and ELAC UT 3000 2G underwater communications systems, both from company ELAC Sonar. Subcontract was announced this week, worth 4 million Euro.
Also with WTD71:
two new STS "Security, Transport and Tug" boats (20m length) for 13 million Euro (tender started in 2019)
The contract for the two STS boats went to Tamsen Maritim acting as a general contractor, and started construction at subcontractor SET in February this year. The two boats are planned to be delivered November 2022 and March 2023 respectively. SET and Tamsen Maritim are small east-german shipyards that also build patrol boats of similar size for the coastguard.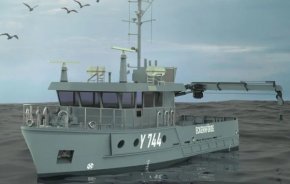 The STS boats are rather conventional small tugs with a work deck with a crane. The overall design and the dimensions in particular, while pretty generic, virtually match the Fassmer BL20 small buoy tender series (Tamsen is sorta run by former Fassmer employees...). The boats are intended to be used to tow other ships or barges and provide a patrol asset during trials, as well as salvaging underwater materials and deploying divers.
Last edited: